Barrick Gold to sell $1.5B in assets, but open to acquisitions
Canada's Barrick Gold (TSX:ABX)(NYSE:GOLD), the world's second-largest producer of the precious metal, said Wednesday it had pinned down assets worth about $1.5 billion that it intends to sell through next year, adding it also remains open to acquiring new projects.
President and chief executive officer, Mark Bristow, said Barrick would offload the unwanted assets once they are optimized enough to create adequate value for shareholders.
The goal is for the sale process to be well advanced by mid-2020, the executive added.
BMO Capital Markets analyst Andrew Kaip, estimates 13 to be the total number of assets, accounting for 750,000 ounces of gold and 400 million pounds of copper production that the new Barrick is likely to put on the chopping block.
Kaip believes the largest potential deal would be Barrick's Lumwana copper mine in Zambia, which could fetch as much as $1.3 billion.
The merged mining company may also sell its 50% stake in Chile's Zaldivar mine and Randgold's Tongon, Massawa and Morila assets.
Bristow's comments came as Barrick reported a first-quarter profit of $111 million for the January-March period, or six cents per share, about 33% below the nine cents per share analysts on average had expected.
The figure is also down from a profit of $158 million, or 14 cents per share, in the same quarter last year.
The Toronto-based miner, which keeps its books in U.S. dollars, said quarter on quarter comparisons were skewed by the recent and touted merge with Randgold at the start of the year.
Revenue, in fact, totalled $2.09 billion, up from $1.79 billion in the same quarter of 2018, while January-March gold production was up 8% to 1.367 million ounces from 1.049 million in the first quarter last year and 1.262 million in the fourth quarter.
The company also announced a dividend of 4 cents per share payable on June 17 to shareholders of record at the close of business on May 31.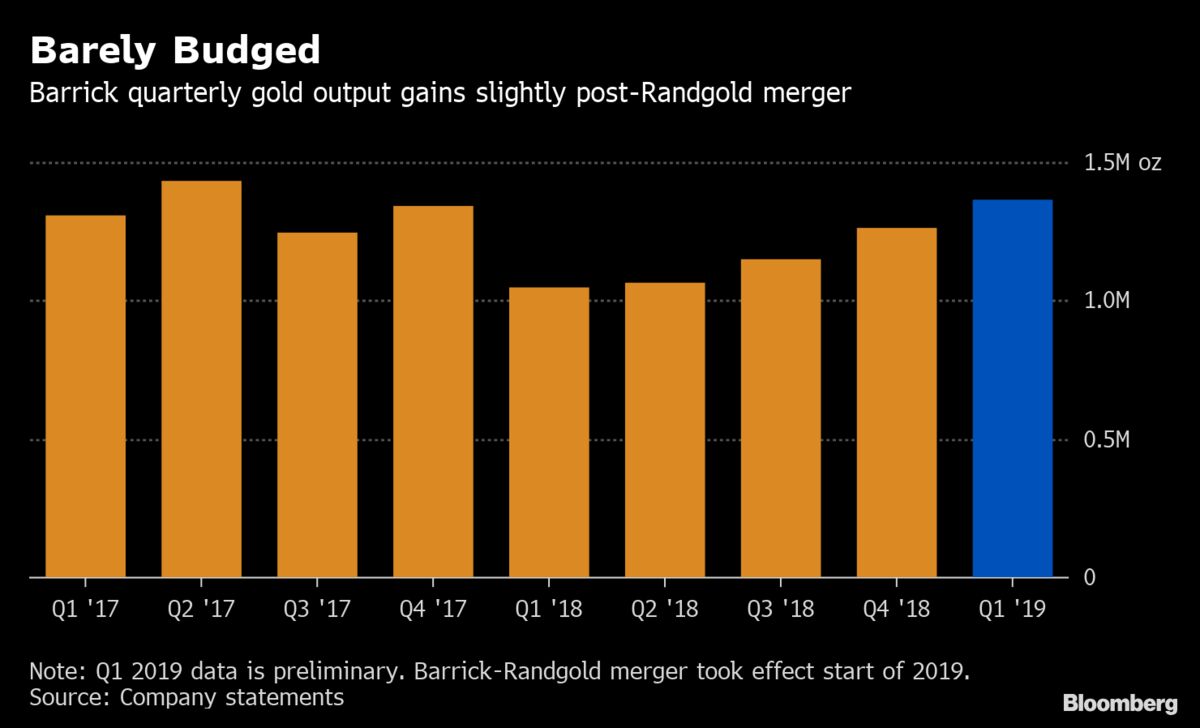 Officials said this was in line with the commitment the company made when the $18.3 billion merger with Randgold was first mentioned last year.
"We have gone a long way towards integrating the organizations, streamlining the processes and ensuring that all the sites have the geological, operational and technical capability to meet their business objectives," Bristow said in the statement.
"We're also well advanced in establishing our new joint venture with Newmont, which has been named Nevada Gold Mines. The organizational structures are being finalized and we're working together with Newmont to realize the synergies and cost-reduction opportunities offered by the joint venture, which is scheduled for completion by the end of the second quarter."
Fixing Tanzania tax row
Since becoming Barrick's new leader this year, Bristow's biggest headache has been the company's majority-owned African subsidiary, Acacia Mining (LON:ACA). The unit has been embroiled in a battle with Tanzania since 2017, when the country's government banned exports of unprocessed metal and slapped it with a $190 billion tax bill— equal to almost two centuries worth of revenue.
The relationship between Barrick and its 64%-owned Acacia has been strained and progress moving an agreement forward has been almost impossible, Bristow said on Wednesday.
"It's a tragedy," he told Bloomberg. "We're dealing with a complete breakdown of relationships."